Understand the development trend of China's lithium battery equipment industry (chart)
With the explosion of downstream power and energy storage markets, China's lithium ion battery industry is experiencing huge market dividends. According to statistics from lithium power, China's lithium battery output in the first half of 2016 was 25.3Gwh, up 32.5% year-on-year. The annual output of lithium battery in China is expected to reach 62Gwh, with a year-on-year growth of 33.2%, among which the output of power battery is nearly 30Gwh, with a year-on-year growth of 74%. China's lithium battery production will increase by more than 25% in the next three years.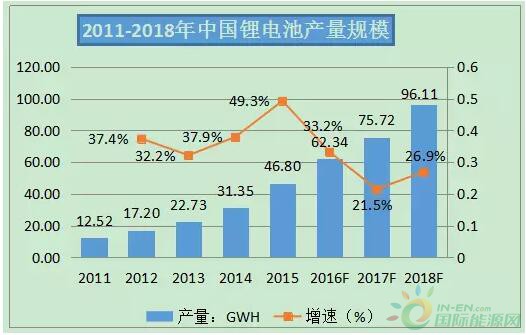 Source: Lithium big data
1. Power battery investment and capacity growth
Power demand jumps, power supply capacity is in short supply, mainstream power battery companies are accelerating capacity expansion, in order to seize market share, the next three years will be the most concentrated time window for power battery companies to increase production capacity. According to the statistics of lithium battery, the investment in the lithium battery industry chain in the first half of 2016 has exceeded RMB 116 billion, mainly focusing on power lithium battery companies and mergers and acquisitions and capacity expansion.
Capacity planning of some mainstream power battery manufacturers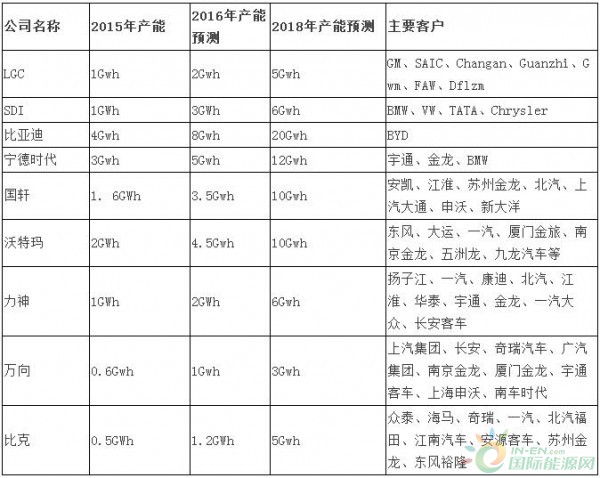 Data source: lithium TV big data
The number of new entrants has increased significantly. According to statistics of lithium power big data, there were more than 20 new entrants of power battery enterprises in 2016. The new entrants mainly include 3C battery transformation, crossover and lead-acid battery transformation.
Power battery transformation and new entrants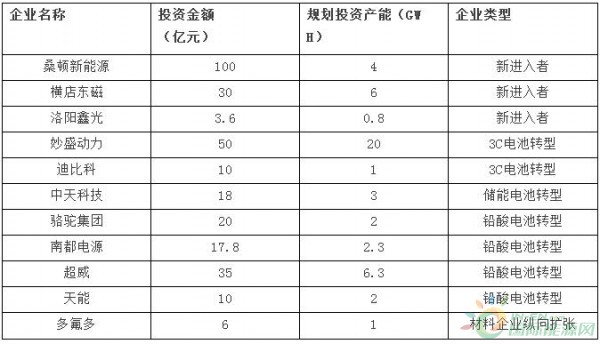 2. Lithium electric equipment market scale explodes
According to the data to predict lithium radio and TV university, in the next three years will be a peak power lithium battery capacity expansion, to three years of 2016-2018 new capacity will reach 92 GWH, corresponding equipment market scale according to an average of 600 million yuan 1 GWH equipment needs calculation, three years of equipment total scale will reach 55.2 billion yuan, in 2018 China power battery equipment needs scale will reach 30 billion yuan.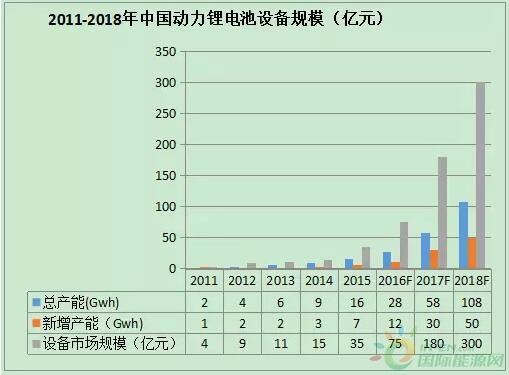 Data source: lithium TV big data
3. China's lithium battery equipment pattern will be reshaped in the next three years
At present, the domestic market competition pattern has not yet formed. The domestic lithium battery equipment industry has not yet seen a super-enterprise with obvious technical advantages, large scale, and leading role in the industry. Most enterprises are small in scale. The gap between domestically produced equipment and foreign equipment still exists, and the scale and technical strength of domestic equipment manufacturers are also uneven. China's lithium battery production equipment is high precision, high speed, high stability, unmanned, online, and digital.
The upgrade of power battery demand will force equipment companies to increase their own technology research and development and process improvement, so that equipment companies such as small and medium-sized technology in the market will be accelerated and eliminated, and industry concentration will continue to increase. In the future, the competition in the lithium battery equipment industry will be upgraded from single factor competition to capital, technology, talent and other enterprise capabilities.